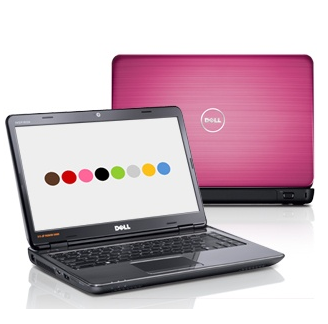 Welcome to the Back to School Giveaway Bonanza!!! This week, you will have the chance to win several prizes that are a perfect fit for back to school. You will want to check back on the site several times each day to see if there is a new giveaway posted for you to enter — making sure to stop by ALL of the sites so you can have multiple chances to win some amazing prizes. So, without further ado, it's time for our VERY FIRST giveaway!!!
I recently had the chance to review a Dell Inspiron 14R Laptop Computer. This computer retails for $479.99 and even comes in 4 amazing colors – you gotta check them out. I personally loved the pink one!!!
The computer is small, but the keyboard didn't seem to suffer as a result. I had no problem adapting to the keys – which are pretty darn quiet! The size is only 14".  What I loved about the smaller size is that I didn't have to purchase a new laptop bag, which saved me money.
I really liked how the AC Adapter plugged in. It is in the back of the computer. I have had some that have a side plug-in, and the adapter ends up being creased and breaking from too much movement. I can foresee this one lasting much longer before it would need to be replaced.
I was able to plug in the computer and get on-line within a matter of minutes. The Windows 7 operating system helps to make this possible. Windows 7 is a different than Vista, so if you don't know much about it, you'll want to do some research.  I also was impressed with the Corel i3 Processor as the computer moved at great speed.
One thing that Dell wants to be sure is that you and your children are safe when surfing the net.   They have a GREAT article that you should check out.  Some of these include:  Watching what your chilren do on line, not sharing too much personal details and how to use specialized kid-friendly browsers.  You should definitely check out this article here.
Dell has graciously provided me with the same laptop for one of you!!! Entry is very simple – answer the one question below after visiting the Dell website. If you wish to score some bonus entries, you can by answering the questions. Be sure to go HERE to enter as comments left via Twitter, Facebook or any through any other post will not be counted.
REQUIRED ENTRY:
1. If you could have any color of a Dell Inspiron Laptop – which would you choose?  You have to check out their site to know the colors and then COME BACK HERE to leave the comment (there is not any way to enter on Dell's webiste).
BONUS ENTRIES:
1.  Follow Penny Pinchin' Mom on a reader, daily e-mail digest or on Facebook.
2. Follow Dell on Facebook or Twitter.
This giveaway is part of the Back to School Giveaway Bonanza that has 12 bloggers providing our readers several chances to win some wonderful prizes. You can easily increase your odds of winning by stopping by each of these sites and completing the required and/or bonus entry questions:
This contest will remain open for 5 days – until August 13th at 9:00 a.m. At that time, comments will be closed and a winner will be chosen. Said winner will be notified within 7 – 14 days to confirm shipping address and laptop color. Good luck!
Penny Pinchin' Mom received a Dell Inspiron Laptop for review. The product will be returned within 30 days, or she may elect to purchase the laptop. The opinions contained within this post are that of Penny Pinchin' Mom and were not in any way influenced by Dell or other party. Please review our Facebook page for the official terms of the giveaway.