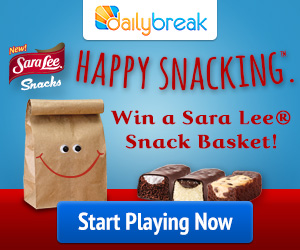 Sara Lee is running another fun contest!!  Ten lucky people will win a Snack Basket — filled with delicious Sara Lee Snacks!
Just head HERE (or click the banner above) and test your memory.  Once you finish your game, just share with someone you know and you will get a coupon to save $1.00 off of Sara Lee Snacks!
You will need to get all 10 matches as quickly as you can.  Once you are done, share your Happy Snacking Note.  Once that is done, you will see a green button that says you can download your coupon — just click that and you'll be done!
Good Luck!!!