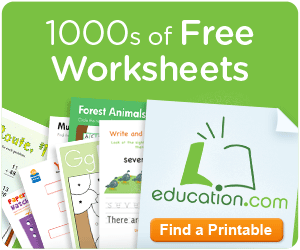 My kids are always asking for me to print pages out for them.  We find coloring pages, math sheets, language pages — you name it — we have probably printed it!  One resource for great FREE printables is Education.com.
When you get there, you can sign up to become a member (for free).  Once you do that, you will be able to download 10 free printables each month.   You can filter your printables by Grade, Subject and even type of printable.  What a great resource for anyone who wants to help challenge their children to excel in subjects at school — or to even help a child who may be struggling.  If you need more than 10 a month, you can upgrade your plan and then you will have access to unlimited downloads each month.
Your upgraded plan also includes slideshows to download in addition to all of these printables.  This could be a great addition to your homeschooling curriculum.
I am such a believer that kids can learn when they are given the tools they need. This is just one resource available to help you do just that.  Visit Education.com to get signed up and start printing!