Being a mom, especially a mom on a budget, can be tough!  Here is a list of current deals and freebies you can claim for your little one!!
FREEBIES
There are several free magazines and gifts available for moms and moms-to-be!!

Request your free subscription to Baby Talk Magazine.  This is just one free magazine you can request, which will help answer a lot of those questions you might have!
You can also request a free subscription to American Baby Magazine.  This sometimes has coupons hidden inside of it too, which can make for some really good deals!
Have you joined Pampers Gifts to Grow yet?  This is a great way to get things for FREE!  Just collect the points, add them to your account and in no time, you'll be on your way to getting some great freebies!  The best part of all is that you don't just have to purchase products to gain codes as they are available online from time to time as well (and I will pass them along as I learn about them).  Visit Pampers Gifts To Grow and sign up today and get 100 points!
Join Similac Strong Moms and get tips for a healthy pregnancy as well as what to do once baby arrives. You'll even get a free gift just for signing up! Click the banner above to learn more about this offer.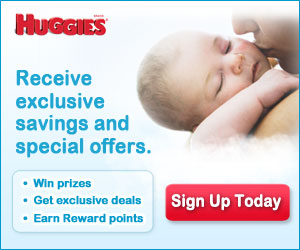 Sign up for Huggies New Moms club and get exclusive offers and savings right in your inbox!!!  Click HERE to learn more!
You can enter for a chance to win free diapers for a YEAR!  Everydayfamily.com has all of the details – learn more HERE.
DEALS
Make sure you check out our weekly Diaper Deals post to find the deals both at your local store as well as online!!!
Get a carseat canopy for just the cost of shipping – $12.95.  If you'd rather pick up The Whole Caboodle 5 piece set, you can save $50 off of your purchase.  Just use the code MYSAVINGS at checkout to get yours.  Visit Carseat Canopy to get this deal.
This is another great offer — a nursing pillow for just the cost of shipping ($12.95).  Use the code MYSAVINGS to save $40 off of your purchase of any pillow.  If you want to upgrade your pillow, you will still save $40 with this code!  Visit NursingPillow.com to learn more.
Save $40 off of the purchase of a baby sling at SevenSlings.com.  Simply enter the code MYSAVINGS and $40 will be knocked off of the purchase price.  You can use this to get a free original sling – just pay shipping of $12.95.  You can use this same code to save $40 off of any other sling priced higher.  Visit SevenSlings to learn more.
CURRENT COUPONS
$1/1 Gerber Sleep 'n Play Product printable
$1/3 Gerber Graduates Puffs or Lil' Crunchies Snacks For Crawlers printable
$1/1 Gerber Onesies Brand Product printable
$2/1 Gerber Graduates Feeding Product Including Sippy Cups, Tableware or Utensils printable
$1/1 Gerber Apparel or Bedding Product printable
$1/1 Gerber Sleep 'n Play Product printable
$1/1 Gerber Onesies Brand One-Piece Underwear printable
$5/$25 Gerber Apparel or Bedding Product printable
$1/$3 Gerber Accessory Purchase @Food Lion printable
$1/1 Gerber Onesies Brand Item or any other Gerber Apparel or Bedding Product printable
$1/1 Gerber Apparel or Bedding Product printable
$1.50/1 Pampers Baby Dry Diapers printable
$0.50/1 Pampers Wipes printable
$1.50/1 Pampers Baby Dry printable
$1.50/1 Pampers Cruisers Diapers printable
$0.50/2 Pampers Wipes printable
$1.50/1 Pampers Cruisers Diapers printable
$1.50/1 Pampers Swaddlers Diapers printable
$1/1 Huggies Little Swimmers Disposable Swimpants printable
$2/1 Goodnites Underwear printable
$1/1 GoodNites Youth Pants or Bed Mats printable
$1.50/1 Huggies Diapers printable
$2/1 Huggies Overnites Diapers printable
$1.50/1 Pull-Ups Training Pants printable
$2/1 Huggies Little Movers Slip-On Diapers printable
$0.50/1 Pull-Ups Big Kid Flushable Wipes printable
$2/1 Huggies Little Movers or Little Snugglers Diapers printable
$2/1 Pull-Ups Night Time Training Pants printable
$1/1 Pull-Ups BigKid Flushable Wipes printable
$1.50/1 Goodnites Underwear printable
$0.50/1 Huggies Baby Wipes printable
$2/1 Goodnites Bed Mats printable
$6/1 Huggies Diapers (Ibotta Deposit)
$2/1 Pull-Ups Training Pants printable
$2/1 Huggies Little Movers Slip-On Diapers printable
$1.50/1 Huggies Little Snugglers Diapers printable
$1/1 Johnson's Baby Washcloths Product printable
$1/1 Johnson's Baby Intense Moisture Cream Product printable
$1/1 Johnson's Baby Washcloths printable
$1/1 Johnson's Baby Oil Product printable
$1/1 Johnson's Baby Oil Product printable
$1/1 Johnson's Baby No More Tangles or Extra Conditioning Hair Care Product printable
$2 off Johnson's Baby Bedtime Bath AND Johnson's Baby Bedtime Lotion printable
$1/1 Johnson's Baby Soothing Vapor Bath printable
$2 off Seventh Generation Baby Wipes AND Package of Seventh Generation Diapers printable
$2/2 Aveeno Baby Product printable
$1/1 Desitin Product printable
$1/1 Desitin Maximum Strength Original Paste printable
$1/1 Desitin Diaper Rash Product printable
$1/1 Desitin Rapid Relief Cream printable
$1/1 Desitin Multi-Purpose Ointment printable