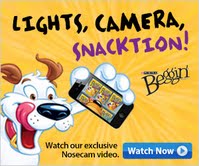 Sometimes, I find things that aren't only free – they are fun!!  I'm sure you've seen all of those fun Beggin' Brand products where you watch via nosecam video.  Well, you can download the Beggin' App and create your own nosecam video!
You will be able to select one of three noses and then get ready to shoot!  You don't need to even speak during your recording – they do that for you!  You can just run around and have fun shooting your own commercial.  Once done, you can share your video on You Tube or Facebook, or save it to you your recording device.
Head over and have some fun with your own Beggin' App!