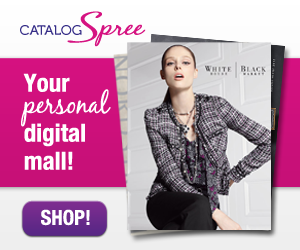 When you join Catalog Spree, you will have access to catalogs, brands and products — all from the comfort of your own home!! Not only that, when you sign up, you will get $50 in free giftcards sent to you!  
This is a really awesome site.  You have every catalog you can imagine, right at your fingertips. The best part is that it is just one site – so no jumping around trying to find what you need.  I think what I love most of all is that you can still gain access to all of those catalogs without wasted paper nor having them fill up you mailbox.  It is all paperless  – totally love that!
Right after I joined, I had the following gift cards sent to me (in the form of a discount code to use at these retailers):
$10 to David's Cookies

$20 to Filson
$20 to Jockey
Head over here to get signed up so you can get your FREE gift cards!!
Reminder: If you are on your mobile device, you can still access the deal above. Simply click on the BOLDED words above and you will be taken directly to the offer. Read more about Finding Deals on Mobile Devices.
Keep in mind that if this offer is for a printable coupon, you may or may not be able to print from your mobile device. Check your printer specs to learn more.