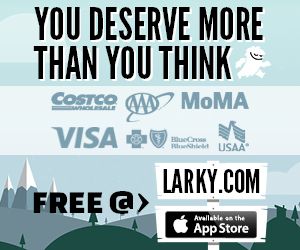 There are thousands of organizations such as AAA, USAA, Costco, which offer members perks.  As a result of your membership, you are entitled to hundreds of little-known perks and discounts.  However, how do you know about them?  Simple – join Larky!!
Larky is a free app, which connects members with deals and discounts for which they are eligible.  You download the Larky app (available in the App Store) and sign up and you are good to go!  The best part is no linking to account number.  No attaching your credit card.  It simply lets you know that there is an offer for that membership and then you follow the steps required to get the deal!
Here's what you need to know to get started with saving:
Download the Larky App to your device.
Click the blue – Join Now banner.
You will need to create an account by entering your email and password – or connect with one of the apps listed.
You will then add the memberships to which you are associated.  You can browse by category or search by name.

As you are out doing your daily shopping or whatnot, if there is a perk attached to the membership, it will come up and you will learn how you can save.
Visit Larky and sign up today.  You've probably paid for your membership — so why not make it pay you back?!