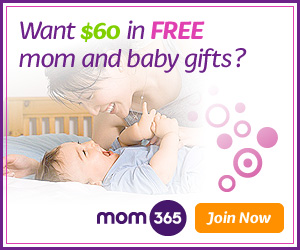 Mom365 is a website geared to help new moms with tips and ideas about raising their little ones.  You will receive a weekly email targeted towards your baby's age called "What's Up with Your Baby."  I remember not knowing what I should expect at each age and so I relied a lot upon research and articles from parenting experts……because none of my kids came with an owner's manual!! 😉
Not only will you get great information, you will receive $60 in free gifts just for signing up.  These include:
$20 Gift Card from Shutterfly

$20 Gift Card from Backbuddy.com
$20 Keepsake from Mom365 Newborn Photography
In addition to all of this, you will be entered to win more than $500 in cash and products just for you and your baby!  Visit Mom365 and get registered – for free — today!
*Codes for free offers are emailed within 7 – 10 days after signing up.