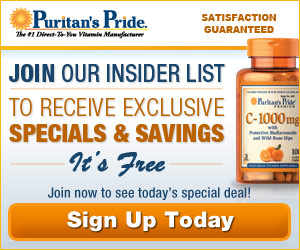 If you are looking for a great deal on vitamins, this is the one for you!  When you sign up right now at Puritan's Pride, you will be able to take part in the great Buy 1 Get 2 Free vitamin sale which they are currently running.  Not only will you find great deals on your vitamins and supplements, but you will also score FREE SHIPPING!
One deal I noticed was on Calcium.  You can pick up 3 bottles for $4.49 total — which makes them cost only $1.50 each!  Even if you don't need this many, why not split the cost with a friend or family member!
Visit Puritan's Pride and sign up today and then get busy shopping!