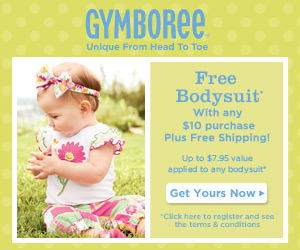 Just wanted to make sure you saw this FREEBIE from Gymboree!! You can get a FREE body suit plus free shipping with any $10 purchase!!  Here is how you can get yours:
Click the image above or head directly here.
Immediately fill out the form.
You will receive a code to use to receive this offer.
It is very important that you realize that if you click through that you fill out the form right then and there.  Otherwise, if you come back to do it later on, you may receive an error message about "duplicate IP" and will be unable to get in on the offer.  They are doing this to ensure that people receive only one offer per IP address.
Hurry over and grab your FREE bodysuit (up to $7.95 value) right now!!!!