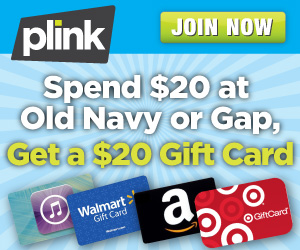 Have you signed up for Plink yet?  Make sure you do because you can get a FREE $20 gift card!!  Once you sign up and link your debit/credit card and then spend $20 at Gap or Old Navy (by April 14, 2013), you will earn 2,000 points.  You will be able to redeem those points for a $20 gift card!
The idea behind Plink is to help you save money without having to remember to clip a coupon or show it to the clerk or server prior to payment.  What is fun is that you can earn even more points when you refer your family and friends to the system, which can help you bank more points even more quickly!
When it comes to registering your card, you can only choose one – so choose wisely. I'd stick with the one you use most frequently (being a credit-card free family, I recommend linking to your debit card).  Keep in mind that this system is new and some banks may not yet be available.  If that is the case, you may have to opt to use your credit card for now.  Here's how to get started:
Head to Plink and create an account.
Link your credit or debit card to your account.
Shop at Gap or Old Navy (in-store only) using the same debit or credit card you linked to your account.
Your points will be awarded on April 18, 2013.
*Offer available for new members only.