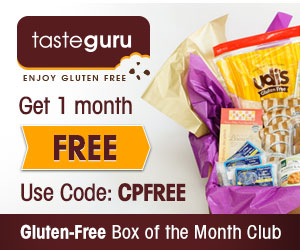 I know we have a lot of readers who either need to avoid Gluten themselves or do so because kids or spouses need to.  If you shop the store you do find some products, but they can be tough to find.  Here's a great way to get those products you want (and you don't even have to leave your house).
Taste Guru delivers high-quality gluten-free foods to your front door each month!  Right now, you can actually try one month for just the cost of shipping — $12!  Just sign up and then use the code CPFREE at checkout to get in on this offer.   Your service will continue at a rate of $24.95 per month and you will receive a box filled with 5 lbs of food (this is a savings of 50% off of what you would pay retail)!  Shipping is always free (after that first box) – so you can count on paying only $24.95 going forward!
We founded Taste Guru, a gluten-free box of the month club, because it can be tough to find great-tasting, gluten-free food. We taste dozens of new foods every month, box up our favorite finds, and deliver them to your door each month with free shipping (after the 1st free box) plus the cost of food, which is lower than you can find in your local grocery store. We think it's time you enjoyed gluten free!
Sign up for Taste Guru to try your first month for free.  You might discover great gluten-free products which you'd have never known about otherwise!