This is a Sponsored post written by me on behalf of Walmart for SocialSpark. All opinions are 100% mine.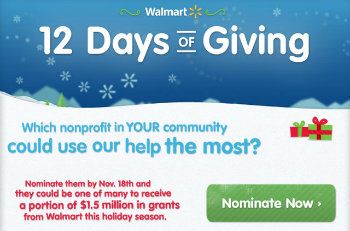 When it comes to the holiday season, it seems that most people feel the desire to give to others. While my family gives all year long, we also tend to do even more these last 2 months of the year. Walmart is doing the same!
This holiday season, Walmart is running 12 Days of Giving during which time they will be giving away $1.5 million in grants to help benefit local communities across America. They will donate basic items such as food, diapers, coats, baby formula and cold-weather apparael to help those in need. What is great is that YOU have a chance to nominate an organization whom you think should be nominated.
It is so very simple to make your nomination:
First, go to Live Better on Walmart's Facebook Page.
Secondly, fill out the form to submit your favorite organization. You will need to include their name, contact information and website. If you feel up to it, you can even share a photo. You will also share why you think they should be considered.
Hit submit and you'll be done!
I made my own nomination this year. I really had a difficult time selecting just one organization, but finally decided upon Big Brothers & Big Sisters of Kansas City. They do so many amazing things for children all year long. They help them learn that there are people who care, even when it seems that there are not. They help them learn that they are imporant and that they can do anything that they want in this world. I love that they are doing what they can to help these children feel the love and compassion that all children deserve.
I'd love to hear who you nominated! Just leave a comment here after you make your submission. You neer know if yours will be a winner or not! Hurry though, as the nominations close on November 18th!!!